Welcome to the Suffolk Branch of Butterfly Conservation
Butterfly Conservation is a registered charity dedicated to the conservation of butterflies and moths

Join Butterfly Conservation - click here to go to the National Butterfly Conservation website to join.
An important Branch post will become available when Dom Hill resigns his role as Treasurer at our 2018 AGM in November

We are grateful to Dom for both managing our account and for over-seeing the recent move to central financing by Head Office.

The search is on for someone to fill this position. Perhaps you are thinking of devoting some of your time to volunteer work. Here is your opportunity to find out more about this post.

Treasurer's Role

Book-keeping for BC Branches is done by BC Head Office, so the Treasurer's role for the Suffolk Branch is not too demanding and no prior financial experience or technical qualifications are required.
The Treasurer has to liaise with Head Office in order to:- arrange the payment of invoices, maintain a spreadsheet of Branch transactions and reconcile against Head Office information, and present simple accounts for the Branch AGM.

For more information contact Dom Hill
07389194202
01359269137

or Suffolk Branch Chair Peter Maddison
01473 736607
<![if !supportLineBreakNewLine]> <![endif]>
Next Local Events -

Sunday 29th July GARDEN OPEN DAY*
Wildlife Garden Open Day
An invitation from BC member Mrs Trudie Willis, to visit her 10 acre garden, including a Buddleia and Honeysuckle collection.
Meet: Park at Prior's Oak, Leiston Road, Aldeburgh (B1122 Leiston to Aldeburgh Road)
Map Ref: TM452591 Post Code: IP15 5QE
Time: 10.30 am start
Contact: Peter Maddison 01473 736607<![if !supportLineBreakNewLine]><![endif]>

Wednesday 1st August - Moth Trap Opening and Butterfly Survey
Shifting Sands Project with Sharon Hearle All welcome suitable for beginners
Join Sharon Hearle to see moths caught the night before in 5 traps set in the forest followed by an optional 3 mile walk to record butterflies and moths. Grayling might be recorded
Meet; Forest Lodge Car Park at West Stow Ride 205 Between West Stow Country Park and West Stow Hall
Grid Ref: TL814715 Approx. postcode IP28 6HB
Time: 10am – 2pm; Please bring packed lunch and drinks if staying for the walk.
NOTE: Ticks are present in Kings Forest so wear suitable clothing. Click here for advice
Contact Sharon Hearle Tel 07920131526 It is very helpful to know if you are planning to attend before. (Sharon is Butterfly Conservation Senior Regional Officer, East of England)
Click here for more about the Shifting Sands Project


Suffolk moth group field events programme now available to see online - http://suffolkmoths.org.uk/blog/


Wider Countryside Butterfly Survey (WCBS)

The WCBS is a national scheme which complements the transects of the UK BMS with mini transects walked in squares randomly selected by the BTO computer. Volunteers from Butterfly Conservation and the BTO need to walk just twice per year in July and August (with an optional spring walk if you wish). This means that the commitment is not heavy.

The Wider Countryside Butterfly Scheme (WCBS) Report 2017 has been published. Click here to download a copy in pdf format.

Over the past nine years volunteers have monitored butterflies in a selection of 1 km squares. In July and August 2017, on two walks along fixed routes, 774 squares were surveyed nationally, 39 squares in Suffolk. The Report is an interesting read showing not only the results of butterfly species numbers and analysis, but also a guide to some day-flying moths which recorders are encouraged to include. If you have not previously been part of the scheme but would like to become involved in 2018 contact Twm Wade at the email address below.

We have 14 squares in need of a volunteer

| | | |
| --- | --- | --- |
| OS Grid Reference | Town/Parish | Post Code |
| TL7573 | Icklingham | IP28 6PZ |
| TL8164 | Westley | IP33 3RB |
| TL8381 | Thetford (west) | IP24 3ST |
| TL9248 | Lavenham | CO10 9PE |
| TL9479 | Coney Weston | IP31 1HL |
| TL9577 | Coney Weston | IP31 1DL |
| TM0378 | Redgrave | IP22 1SA |
| TM1233 | Brantham | CO11 1PT |
| TM1944 | Ipswich (Hospital and Copleston High School) | IP4 5PD |
| TM3180 | St James, South Elmham and Metfield | IP19 0HT |
| TM0969 | Wickham Skeith | IP23 8LX |
| TM3568 | Peasenhall | IP17 2NQ |
| TM4663 | Leiston | IP16 4UL |

Email our WCBS co-ordinator, Twm Wade to volunteer for one of these squares

Download the 2015 report

Download the 2016 Report

BMS - Butterfly Monitoring Scheme
BTO - British Trust for Ornithology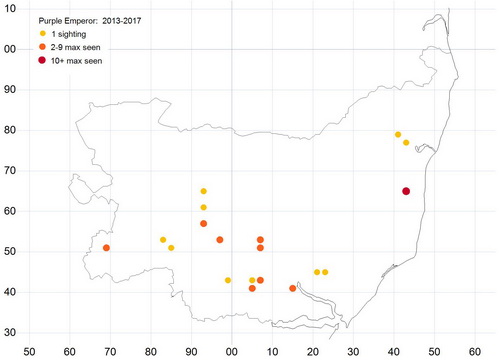 Distribution Maps for Suffolk Butterflies 2013-2017

The Suffolk Butterfly Recorder, Bill Stone, has prepared new distribution maps for 2013 - 2017 for all the butterflies that can be found in Suffolk. For anyone who has the maps produced 15 years ago* they show significant differences for some species. For example the Wall is now almost entirely restricted to the coast and the Silver-washed Fritillary was not present in Suffolk.

Click here for the new Distribution Maps

*The Millennium Atlas of Suffolk Butterflies, 2001, by Richard Stewart. Published by Suffolk Naturalists'Society. £5 from SNS [You can order from Ipswich Museum by phone, 01473 433547].




You can also see the UK distibution maps for the most recent five-year survey of the Butterflies for the New Millennium (BNM) recording scheme (2010-2014).
Click here to download the Atlas of UK Butterflies 2010-2014 in pdf format (11 MB).

40 year slump for UK Butterflies

More than three-quarters of the UK's butterflies have declined in the last 40 years with some common species suffering significant slumps, a major scientific study has revealed. A number of widespread species such as the Wall, Essex Skipper and Small Heath now rank amongst the most severely declining butterflies in the UK.

The findings also reveal that intensive conservation efforts have started to turn around the fortunes of some of the UK's most endangered butterflies. During the last 10 years the numbers of the threatened Duke of Burgundy have increased by 67% and the Pearl-bordered Fritillary has experienced a 45% rise in abundance. Dingy Skipper and Silver-studded Blue have shown 21% and 19% increases in occurrence respectively and even the UK's most endangered butterfly, the High Brown Fritillary, has been relatively stable in the last decade.

But despite breakthroughs with some threatened butterflies the report revealed that other species continue to struggle. The long-term decline of the Wood White, White Admiral and Marsh Fritillary show few signs of stopping.

Download in pdf format the full 'State of UK Butterflies 2015' report here

Do we have your email address?
It will help us to communicate changes to events (as above) if we have your email address.
Please email your name to using your normal email address and email address as the subject. This can then be added to our membership list.

Follow us on Twitter.
But still send your sightings to

When to See Butterflies.

The Suffolk Butterflies page lists the butterflies that can be seen in Suffolk, shows when you can expect to see them and the foodplants upon which their caterpillars feed.
We can also help if you would like advice about making your garden more attractive to butterflies

See the News page for dates of First Sightings

Like much of the UK, Suffolk's countryside and wildlife are under increasing pressure. It's a situation that is unlikely to improve in the forseeable future and there's never been a more urgent need to understand and conserve our butterfly fauna. The county has a gently undulating landscape of surprising contrasts, defying the stereotype of "flat East Anglia and its arable prairies". The unspoilt coast, intimate river valleys and, especially, the Sandlings heaths and Brecks ensure that Suffolk retains a more varied butterfly fauna than might be expected.

Some recommended books are listed here


Butterfly Records.

The Branch is always grateful for butterfly records and a recording form can be downloaded from the recording page of this website.
We would be particularly grateful for records away from the coast and information on the following species:
Dingy Skipper, Green Hairstreak, Purple Hairstreak, White Letter Hairstreak, Silver-studded Blue, Wall Brown, White Admiral, Silver-washed Fritillary, Grayling and Small Heath.

email your sightings to us at

Recent Sightings can be viewed here


Conservation and Recording

Brimstone - about the Brimstone and Buckthorn project
Help us to record Brimstone butterflies in Suffolk

Silver-studded Blue - links to more information
Translocation to Blaxhall Common - 2012 Update




Ecological Survey of Selected Silver-studded Blue Sites in 2009

Silver-Washed Fritillary - link for more information
Silver-washed Fritillary returns to Suffolk

Purple Emperor - link for more information

Ipswich Heaths Project - a new project, aimed at restoring lowland heathland habitat of 300 hectares on 14 sites in Ipswich, has been awarded a Wren Biodiversity Action Fund grant of over £100,000. More details here