Welcome to the Suffolk Branch of Butterfly Conservation
Butterfly Conservation is a registered charity dedicated to the conservation of butterflies and moths

Join Butterfly Conservation - click here to go to the National Butterfly Conservation website to join.
PHOTOGRAPHIC COMPETITION FOR SUFFOLK BRANCH MEMBERS


Due to the restrictions this year, our 2020 AGM was cancelled. The photographic competition, which has taken place at the AGM for the past few years, has been popular so we are running this on-line.

Entries can be submitted and votes can be made by email. Only members of Suffolk Branch can enter or vote. The appropriate email addresses have been sent by email. If you have not received them please email the address in the detailed rules.

Entries can be submitted from 15 Jan 2021 to 28 Feb 2021. Votes can be made from 1 Mar 2021 to 21 Mar2021.

Up to three photos can be submitted per person. For each please provide your name, species name, location and date taken. You can also provide technical details but this is not necessary. Photographs will be resized to 900 pixels for the longest dimension. You can do this yourself before submitting if you want to. The detailed rules indicate how much digital enhancement of an image is allowed

Click here for the full details

NEW SUFFOLK COUNTY BUTTERFLY RECORDER

The new County Butterfly Recorder for Suffolk is James Corton. He takes over from Bill Stone.

The post is a Suffolk Naturalists' Society position but works closely with Suffolk Butterfly Conservation.

COVID restrictions mens they have been unable to meet so they are going to start a series of Zoom calls in order to make progress with getting James familiar with the various databases and recording schemes. Bill will support James until he feels confident to assume the role fully and Bill will also help him with the 2021 report

The Recorder's role is to encourage accurate recording of butterflies in Suffolk, to verify and keep county butterfly records and to produce an annual butterfly report for publication in the Suffolk Naturalists' Society Transactions and the Suffolk Branch of BC Argus. In order to promote butterfly recording the Recorder has to be able to engage with a wide range of stakeholders, wildlife groups, individuals, and an enthusiastic group of butterfly recorders (approximately 70 individuals) within the county.

James can be contacted at
<![if !supportLineBreakNewLine]><![endif]>
The Wildlife Garden at Aldeburgh


This book is the story of a remarkable and enduring transformation. When Trudie Willis and her husband David moved to Priors Oak, alongside the Aldeburgh to Leiston road, they were faced with unpromising sandy soil. Now the garden has grown to ten acres of ferility and abundance. It offers a wide range of attractions, from the more formal areas to productive vegetable beds, with donkeys and tortoises along the way. At the far end, an extensive wildlife garden has yielded a long, varied and increasing list of species. For many years, Trudie has opened her garden to visitors, suppoting a wide range of charities and raising well over £50,000.

The text and general photos are by Richard Stewart, with many extracts from Trudie's own garden notes. Richard was the former Suffolk Butterfly Recorder.

Liz Cutting has provided the species photos and she also worked with Richard on his last book 'The Butterflies of Christchurch Park'. Her photographs have appeared in many publications and she is one of Suffolk's leading dormouse experts.

The book can be purchased, price £7.50, from the author at 112 Westerfild Road, Ipswich, IP4 2XW.

Also at one of the garden open days - details at Priors Oak Butterfly Garden (google.com)
One of these open days is on Sunday 1st August when Butterfly Conservation will be present.
See Butterflies at Priors Oak - Priors Oak Butterfly Garden (google.com) for photographs from previous years.

All profits will go to the work of Butterfly Conservation in Suffolk.
<![if !supportLineBreakNewLine]> The UK Butterfly Monitoring Scheme (UKBMS)

The UKBMS report for 2019 is now available. Click here to download from our website or click here to download a higher resoltion version from the UKBMS website

In the UK Butterfly Monitoring Scheme (UKBMS), annual data on the population status of butterflies is derived from a wide-scale program of site-based monitoring and sampling in randomly selected 1km squares.

The sampling framework comprises: (1) Weekly butterfly transects (Pollard walks); (2) Reduced effort surveys of habitat specialist species (including timed counts of adults, single species transects, and egg and larval counts); and (3) the Wider Countryside Butterfly Survey (WCBS).

The resulting UKBMS dataset is one of the most important resources for understanding changes in insect populations and answering policy questions relating to status and trends in biodiversity.

The data is used in the recently published National Statistics UK Biodiversity indicators. This release and publication report on UK progress towards meeting the biodiversity goals and targets 'the Aichi targets' agreed in 2010. Key results Since 1976 show that the unsmoothed habitat specialist butterflies index has fallen by 59%. Over the same period, the unsmoothed index for species of the wider countryside has fallen by 20%. Click here to download a copy.

The UKBMS scheme has monitored changes in the abundance of butterflies throughout the United Kingdom since 1976. Forty years later, trends in butterfly populations were compiled from a network of over 4,000 locations across all years, with nearly 2,500 sample locations monitored in 2015. The UKBMS is based on a well-established and enjoyable recording method listed above and has produced important insights into almost all aspects of butterfly ecology.
<![endif]>

Next Local Events -
All events that were planned for 2020 were CANCELLED but are still listed on our events page click here
We will be publishing events for 2021 at the end of January
Our AGM, postponed from 2020, was to be on Saturday 20th March 2021 but will now be

Saturday 30th October 2021
Suffolk Branch A.G.M & Members Event

Guest speaker - Martin Warren, Head of Development at Butterfly Conservation Europe and previously Chief Executive of Butterfly Conservation.

Venue: Stowupland Village Hall
Grid Ref: TM 070600, Post Code: IP14 4BG
Time: 2.30 pm.

The AGM will be followed by the guest speaker, members' slides, light refreshments and the annual photo competition. Further details will be announced in The Suffolk Argus and on the Branch website.

<![if !supportLineBreakNewLine]> Enter our photographic competition - details here<![endif]>


Coronavirus - Butterfly Recording

Please follow the latest advice from the government. Follow social distancing rules and wear a mask where necessary.


Suffolk Argus

The Suffolk Argus is the newsletter of Suffolk Butterfly Conservation and is produced three times a year.
It contains news and articles about the butterflies of Suffolk.

Autumn 2020 volume 79 has just been published
You can read the this edition by clicking here

Archive - You can view previous editions in the archive. This has every edition from Spring 2011.

To view the archive click here

All copies of the Suffolk Argus from Spring 2011 Volume 50 to Spring 2020 Volume 77 are available to download in pdf format from our archive.


Note that Summer 2020 Volume 78 is only available to members of Suffolk Butterfly Conservation who will have been sent the access details by email. It contains the Suffolk Butterfly Report for 2019 which is a Suffolk Naturalists Society report. We will make it available here once it has been published in Suffolk Natural History. Previous year's reports are available from their website (click here).



Wider Countryside Butterfly Survey (WCBS)

Over the last few weeks restrictions relating to outdoor activities have been relaxing at varying pace across the different nations of the UK. We were able to resume butterfly monitoring in England from 14th May Click here for full details from UKBMS


The WCBS is a national scheme which complements the transects of the UK BMS with mini transects walked in squares randomly selected by the BTO computer. Volunteers from Butterfly Conservation and the BTO need to walk just twice per year in July and August (with an optional spring walk if you wish). This means that the commitment is not heavy.

The Wider Countryside Butterfly Scheme (WCBS) Report 2018 has been published. Click here to download a copy in pdf format.

Over the past nine years volunteers have monitored butterflies in a selection of 1 km squares. In July and August 2017, on two walks along fixed routes, 774 squares were surveyed nationally, 39 squares in Suffolk. The Report is an interesting read showing not only the results of butterfly species numbers and analysis, but also a guide to some day-flying moths which recorders are encouraged to include. If you have not previously been part of the scheme but would like to become involved in 2018 contact Twm Wade at the email address below.

We have 11 squares in need of a volunteer. For details of the squares click here for the WCBS page

| | | |
| --- | --- | --- |
| OS Grid Reference | Town/Parish | Post Code |
| TL8164 | Westley | IP33 3RB |
| TL8381 | Thetford (west) | IP24 3ST |
| TL9248 | Lavenham | CO10 9PE |
| TL9462 | Beyton | IP30 9AH |
| TL9479 | Coney Weston | IP31 1HL |
| TL9577 | Coney Weston | IP31 1DL |
| TM1944 | Ipswich (Hospital and Copleston High School) | IP4 5PD |
| TM3180 | St James, South Elmham and Metfield | IP19 0HT |
| TM3388 | Bungay | NR35 1PE |
| TM3568 | Peasenhall | IP17 2NQ |
| TM4069 | Darsham | IP17 3PH |
| TM4663 | Leiston | IP16 4UL |

Email our WCBS co-ordinator, Twm Wade to volunteer for one of these squares

Download reports by clicking on the following years

2015 2016 2017 2018

BMS - Butterfly Monitoring Scheme
BTO - British Trust for Ornithology


Forest Work at Theberton Woods

Forest England (FE) have notified forest work planned for later this year. Preliminary work will be necessary to upgrade the turning area to enable modern lorries to manoeuvre. Forest England is aware of concerns for wildlife, including the Purple Emperors. The mature oaks favoured by the Purple Emperor will not be felled. The sallows will not be cut - except where they are obstructing the rides. The works that are being planned are as follows:

March:
Flail flat (via hedge cutter) all vegetation on the sides and banks surrounding the lorry turnaround thereby allowing Civil Engineering to see the full extent of the turnaround prior to them extending it for full length lorries. (In the past it was common practice for timber haulage to be undertaken by eight-wheelers.)

April:
Civil Engineering will grade the lorry turnaround and remove all the vegetation and soil from the surface so it does not hold water and allows the road to drain properly. Crushed stone will then be brought in and laid and allowed to settle prior to use later in the year.

This summer:
FE will be surveying the wood to look at what areas should be thinned. There are several stands of oak that may well be included. The timing of the work is still to be confirmed as there are several European Protected Species within the wood and FE also want to minimise any disturbance or damage to nesting birds. FE is working closely with Suffolk Biological Records and the County Wildlife Recorders to ensure all of their operations are properly managed.

This Autumn:
It is planned that all timber extraction will be kept off the rides but should there be any damage then this would be reinstated. The thinning operations will greatly improve the overall habitat of the wood and will also greatly assist natural regeneration.

Next few weeks:-
Because the contractors have phased out their 8-wheeler lorries, the extraction will be done on longer lorries. Unfortunately these lorries need more space to turn than is available in the present turning/loading area (known to some as the observation arena for Purple Emperor). This work will begin in the next few weeks. The first phase will be the removal of broom, gorse and other scrub obstructing the track into the forest. It will also entail felling some trees to make space for the lorries to turn. The difference in height between the forest rides and the turning area will necessitate a ramp. The whole turning area will be surfaced with crushed stone. Obviously all this has to be finished before the felling operation can begin.

Forest England is mindful of the presence of Purple Emperors, and intends that there will be no long-term impact on the butterflies.

For more about the history of the Purple Emperor in Theberton Woods click here




New website for Suffolk Moths

Butterfly Conservation is for moths as well as butterflies. There is now a new website with comprehensive information about the moths of Suffolk with photographs, distribution maps and latest sighting dates. You can submit your own moth sightings as well.

Have a look at the new site here www.suffolkmoths.co.uk

End June Update- Suffolk Butterfly Recording 2019- "Black-Holes"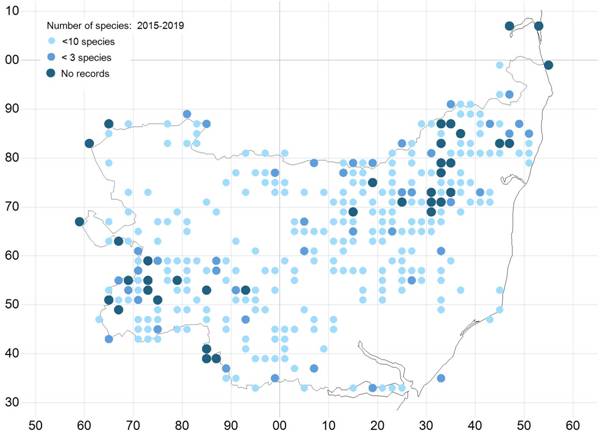 This is a map of the Suffolk recording area which shows the areas remaining as at end of June 2019 without any butterfly records i.e. "black-holes" that exist, these are shown by the dark-blue spots.

<![if !vml]>For a list of the Grid References of the tetrads click here to go to the Black Holes page<![endif]>

Based on the map the following tetrads in the table on the Black Holes page should be visited in order to increase county coverage. 2019 represents the final year of the current five-year recording period for the Butterflies of the New Millennium recording scheme so this is an incredibly important year


Distribution Maps for 2014 to 2018

The latest distribution maps for Suffolk butterflies have now been produced by Bill Stone the Suffolk Butterfly Recorder. The maps are based on results received during 2014 to 2018 from several sources including those shown on the Sightings Page of this website. For anyone who has the maps produced 15 years ago* they show significant differences for some species. For example the Wall is now almost entirely restricted to the coast and the Silver-washed Fritillary was not present in Suffolk.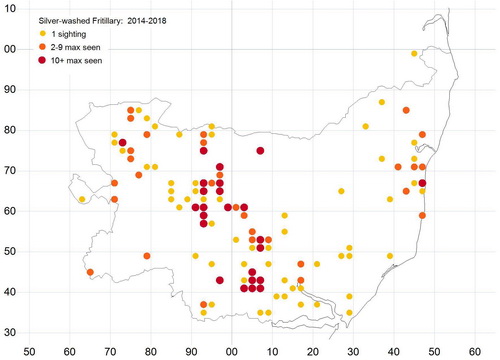 To see the maps click here

2019 is the final year of the Butterflies for the New Millennium (BNM) recording scheme so every sighting received will contribute to the new Butterfly Atlas which will be produced by Butterfly Conservation.

You can see the UK distibution maps for the most recent five-year survey of the Butterflies for the New Millennium (BNM) recording scheme (2010-2014). Click here to download the Atlas of UK Butterflies 2010-2014 in pdf format (11 MB).

*The Millennium Atlas of Suffolk Butterflies, 2001, by Richard Stewart. Published by Suffolk Naturalists'Society. £5 from SNS [You can order from Ipswich Museum by phone, 01473 433547].

UK Butterfly Monitoring Scheme

Some interesting information here. The 10 year trend shows a 31% decline in the Purple Emperor despite an increase in Suffolk. The Marbled White has had a 111% increase but still not crossing the border into Suffolk.


Click here to access the 2018 Summary of Changes table for the UK. The table includes trend estimates for 57 species regularly recorded in the UK and for which sufficient data is available.

Click here to access the 2018 Country-level Summary of Changes tables for England, Scotland, Wales and Northern Ireland. The tables include trend estimates for all species regularly recorded in the respective countries and for which sufficient data is available


40 year slump for UK Butterflies

More than three-quarters of the UK's butterflies have declined in the last 40 years with some common species suffering significant slumps, a major scientific study has revealed. A number of widespread species such as the Wall, Essex Skipper and Small Heath now rank amongst the most severely declining butterflies in the UK.

The findings also reveal that intensive conservation efforts have started to turn around the fortunes of some of the UK's most endangered butterflies. During the last 10 years the numbers of the threatened Duke of Burgundy have increased by 67% and the Pearl-bordered Fritillary has experienced a 45% rise in abundance. Dingy Skipper and Silver-studded Blue have shown 21% and 19% increases in occurrence respectively and even the UK's most endangered butterfly, the High Brown Fritillary, has been relatively stable in the last decade.

But despite breakthroughs with some threatened butterflies the report revealed that other species continue to struggle. The long-term decline of the Wood White, White Admiral and Marsh Fritillary show few signs of stopping.

Download in pdf format the full 'State of UK Butterflies 2015' report here

Do we have your email address?
It will help us to communicate changes to events (as above) if we have your email address.
Please email your name to using your normal email address and email address as the subject. This can then be added to our membership list.

Follow us on Twitter.
But still send your sightings to

When to See Butterflies.

The Suffolk Butterflies page lists the butterflies that can be seen in Suffolk, shows when you can expect to see them and the foodplants upon which their caterpillars feed.
We can also help if you would like advice about making your garden more attractive to butterflies

See the News page for dates of First Sightings

Like much of the UK, Suffolk's countryside and wildlife are under increasing pressure. It's a situation that is unlikely to improve in the forseeable future and there's never been a more urgent need to understand and conserve our butterfly fauna. The county has a gently undulating landscape of surprising contrasts, defying the stereotype of "flat East Anglia and its arable prairies". The unspoilt coast, intimate river valleys and, especially, the Sandlings heaths and Brecks ensure that Suffolk retains a more varied butterfly fauna than might be expected.

Some recommended books are listed here


Butterfly Records.

The Branch is always grateful for butterfly records and a recording form can be downloaded from the recording page of this website.
We would be particularly grateful for records away from the coast and information on the following species:
Dingy Skipper, Green Hairstreak, Purple Hairstreak, White Letter Hairstreak, Silver-studded Blue, Wall Brown, White Admiral, Silver-washed Fritillary, Grayling and Small Heath.

email your sightings to us at

Recent Sightings can be viewed here


Conservation and Recording

Brimstone - about the Brimstone and Buckthorn project
Help us to record Brimstone butterflies in Suffolk

Silver-studded Blue - links to more information
Translocation to Blaxhall Common - 2012 Update




Ecological Survey of Selected Silver-studded Blue Sites in 2009

Silver-Washed Fritillary - link for more information
Silver-washed Fritillary returns to Suffolk

Purple Emperor - link for more information

Ipswich Heaths Project - a new project, aimed at restoring lowland heathland habitat of 300 hectares on 14 sites in Ipswich, has been awarded a Wren Biodiversity Action Fund grant of over £100,000. More details here